Journey Blog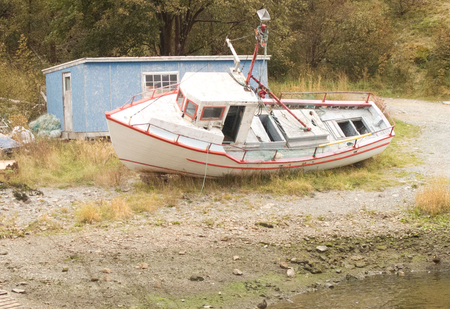 What started out as a wild idea last November has finally been accomplished. Riding from Vancouver to the most eastern point in Canada, St. John's, Newfoundland.
Riding across Canada was not actually a dream that I have had. It was less defined than that. Over the years, I have often read about people making this trip and was amazed at the scale of the challenge. For me, this wasn't a dream because it was never something that I thought that I could do.
What changed that was a combination of two things. First, Rochelle had stated, in no uncertain terms, that we were going to do something amazing for my 50th birthday. She had a number of great ideas but instead of just springing one of them on me, she thought that I should have a say in what it was. So she told me about them last summer. The one idea that really stuck with me was a trip to England for a weekend of racing various exotic cars including a F1 car! After a few laps at a local go-cart track, I realized that I can make myself quite sick in high G-force turns. I had to find something else.
In November, I happened across a website for Brek Boughton who had just started a bicycle journey. Not just across Canada but from Vancouver to Tuktoyaktuk on the Arctic Ocean and back again. In the winter! Unsupported! Following his blog was astonishing. I would never have thought that anyone could do that. One little bit of information that I got from his blog was that he had ridden from Vancouver to Halifax a couple of years ago. It struck me, at that moment, that I could do something like that. After a couple of days researching and reading about others that have done similar trips, I could not find any really good reason why I couldn't make the trip.
I started training in December. I have almost always ridden a bicycle. I was doing some pretty long day rides 20 years ago and even did a couple of multi-day trips. Knee problems and surgery derailed me for many years but over the last 5 years, I have been doing more riding. My training involved increasing the frequency and length of rides. By April, I was riding 4-5 days a week and 50-90 km per day. On April 1, I did the Pacific Populaire ride and put in 120 km that day. It was a hard day but it showed me that I could do 100 km days. I still wasn't sure I could do that for 6 days a week.
At first, I was going to make the trip on my own, carrying everything that I needed on my bike. That would have been so much harder but I am sure that I could have done it. As it turned out, Rochelle ended up being able to take the summer off and we hatched the idea that she would drive a support vehicle to lighten the load on me and we could experience this adventure together.
To be complete, here is what yesterday's ride was like. I left the hurricane damaged camground at about 9:00 am and took a short cut via a fire road to the Transcanada highway. I could have ridden all the way in on the TCH but there was a more interesting way. After about 8 km, I hit the intersection with highway 90 that took me north to highway 60, Conception Bay highway. Like many back roads I've travelled, this was a relatively quiet road that wound though little villages and along the ocean. It was quite beautiful although there were a lot of hills and some pretty good headwinds. At least, the promised rain did not hit.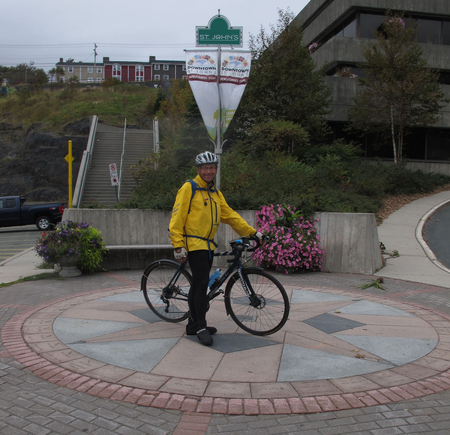 There was one last really big and busy hill that I had to climb and then it was downhill into St. John's. Our first stop was the Mile 0 Marker, which for some reason did not say it was the Mile 0 Marker. This was followed by the traditional "dip the bicycle wheel into the Atlantic" at a little harbour called Quidi Vidi Harbour just north of St. John's Harbour. St. John's Harbour is too industrial to accomplish this other than lowering my bicycle off a dock with a rope.
We followed that with champagne, a nice traditional Newfoundlander dinner and a stay in a wonderful B&B near downtown.
It seems like such an enormous thing as I think about it. But while on the road, I was just focusing on the next town, the next corner in the road or the crest of the next hill. I still don't think that I've switched from dealing with the details of each day or moment to looking back at the trip as a whole. I am sure that will come on the drive home or even after we get back to Vancouver in a couple of weeks. We still have to get back home. Driving VanGo back to Vancouver will be its own kind of adventure!
While there are likely to be more posts here as we return to Vancouver and even after that, they will be less frequent. I have a couple of topics that I'd like to write about that there never seemed to be time for while on the road.
I really appreciate all the people that followed this blog and all of the email messages, Facebook comments and words of encouragement. I am truly surprised that so many found interest in our little adventure!
Some stats:
Exactly 16 weeks elapsed time,
Distance: 8,410 km (5,226 mi),
81 days of cycling
VanGo drove 11,831 km (7,351 mi)